Hair Restoration in Jacksonville, FL
Hair loss is a major concern for many men and women, whether it is caused by age, genetics, hormones, or accidents. With recent advances in the field, new hair restoration treatments have been created to help fight this condition. Learn more about our hair restoration treatments below, and call to schedule a consultation to see if these procedures may be right for you.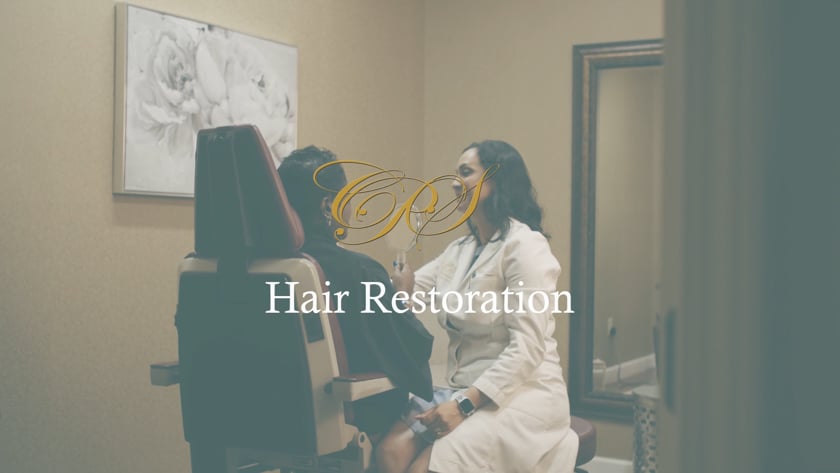 Hair Restoration with Platelet Rich Plasma
You can harvest the power of regenerative medical technologies to restore normal function to damaged hair follicles and prevent hair loss. With the use of enhanced platelet rich plasma (PRP) prepared from your own blood, miniaturizing hairs can be rescued, and scalp itch or discomfort can be reduced. The delivery of additional growth factors in activated PRP concentrate to the scalp heightens the response for significant hair regrowth. So, if you don't have time for hair transplantation, medications, daily topical product applications or laser therapy, try this drug-free, non-surgical treatment that can carry minimal downtime, for your early hair loss.
Hair Restoration with HydraFacial and DE|RIVE Exosomes
Take your hair from being treated to being transformed with a combination of HydraFacial cleansing and DE|RIVE Exosomes serum nourishment. For consistent improvement, we recommend a series of 3 treatments, 4 weeks apart.
HydraFacial scalp treatments cleanse, exfoliate, extract, and prime the scalp with hydration. The patented vortex-fusion treatment will remove product buildup, dandruff/flaking, and dead skin cells from the hair follicles and scalp surface, as well as help soften sebum in oily scalps. After cleansing, treat yourself with LED blue and red light application for extra soothing and stimulation of scalp circulation. Click here to learn more about HydraFacial treatments.
DE|RIVE Exosomes are a premium, plant-derived product specifically designed for scalp and follicle health. The exosomes nourish the scalp with growth factors to promote thicker, longer, fuller, healthier-looking hair by helping to restore, protect, and firm the scalp skin to encourage collagen and elastin synthesis and cell repair. It also helps decrease inflammation, increase hydration, and detoxify against free radical damage. This product has a higher concentration of growth factors than platelet rich plasma (PRP) and it's independent of your own health because it's not made from your blood. Patients can extend treatment by using additional take home kits of exosome concentrate.
Hair Restoration with Nutrafol® Supplements
Nutrafol is a nutraceutical supplement that promotes hair growth in men and women through a multi-targeted therapeutic approach to hair loss. The physician-formulated, clinically tested collection of ingredients in Nutrafol help target several possible triggers for poor hair health including stress levels, micro-inflammation, free radical damage, and poor scalp circulation. With continued use, hair shedding is reduced and sluggish hair follicles are rebuilt by providing nutrient support from the inside out. Nutrafol supplements are a wonderful adjunct to platelet rich plasma (PRP) injections, scalp HydraFacials and DE|RIVE exosome infusions into the scalp to further increase hair growth. Like any beauty regimen, consistent use will yield better results (minimum 3 months recommended). Schedule a consultation visit if you're interested in learning more!
Schedule a
Consultation Today!