Hair Restoration in Jacksonville, FL
Hair loss is a major concern for many men and women, whether it is caused by age, genetics, hormones, or accidents. With recent advances in the field, new hair restoration treatments have been created to help fight this condition. Learn more about our hair restoration treatments below, and call to schedule a consultation to see if these procedures may be right for you.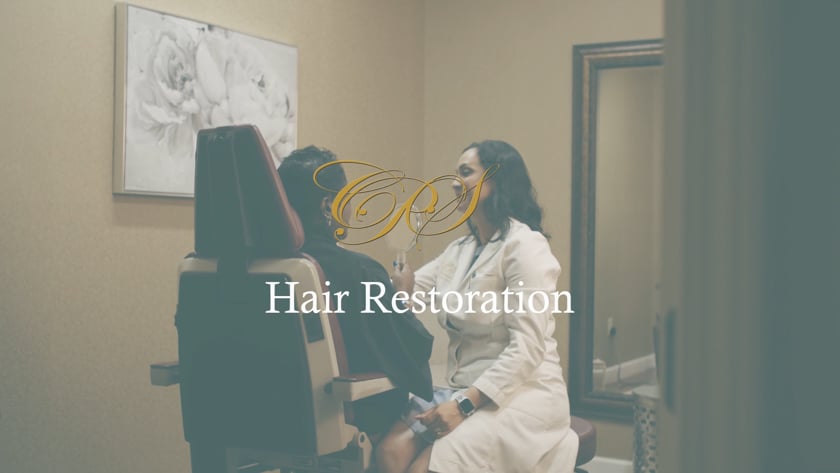 Hair Restoration with Platelet Rich Plasma
Now you can harvest the power of regenerative medical technologies to restore normal function to damaged hair follicles and prevent hair loss. With the use of enhanced platelet rich plasma (PRP) prepared from your own blood, miniaturizing hairs can be rescued, and scalp itch or discomfort can be reduced. The delivery of additional growth factors in activated PRP concentrate to the scalp heightens the response for significant hair regrowth. So if you don't have time for hair transplantation, medications, daily topical product applications or laser therapy, try this drug-free, non-surgical treatment that can carry minimal downtime, for your early hair loss. Call us today for your consultation and get long lasting results with just a few treatments.
Nutrafol is a nutraceutical supplement that safely and effectively promoted hair growth in women with self-perceived thinning. It provides a multi-targeted therapeutic approach to hair loss by addressing micro-inflammation, stress, and oxidative damage with clinically tested, standardized, and bio-optimized phytoactive ingredients.
Physician-formulated, clinically tested, patented collection of ingredients that targets several possible triggers for poor hair health
Hair shedding is reduced and sluggish hair follicles are rebuilt by providing nutrient support that reduces micro-inflammation, oxidative stress and free radical damage, stabilizing harmful levels of dihydrotestosterone (DHT) and stress damaging hormones, and improving scalp circulation
Nutraceuticals include Vitamin E, Vitamin C, Ashwagandha, Curcumin and Saw Palmetto, Keratin, Collagen and Hyaluronic Acid. Gender specific formulations available
Do not contain gluten, wheat, shellfish, binders or fillers
Due to the stress adaptogenic, anti-inflammatory, antioxidant, and anti-aging properties of the ingredients, many Nutrafol users report experiencing decreased anxiety, improved sleep, decreased sugar cravings, and improved skin health
A wonderful adjunct to platelet-rich plasma (PRP) injections into the scalp to further increase hair growth
Like any beauty program, consistent use will yield better results (minimum 3 months)
Schedule a
Consultation Today!