Renuvion™
Renuvion™ cosmetic technology combines cooling Helium plasma with Radiofrequency energy to create dramatic, yet gentle, tissue contraction. FDA cleared for soft tissue coagulation, the applications are diverse as it operates independent of color or wavelength absorption, making it equally effective on a wide range of tissue types. A highly localized shrinking effect occurs when the Helium plasma is combined with the Radiofrequency energy, thereby offering precision and minimizing collateral tissue involvement for unparalleled safety.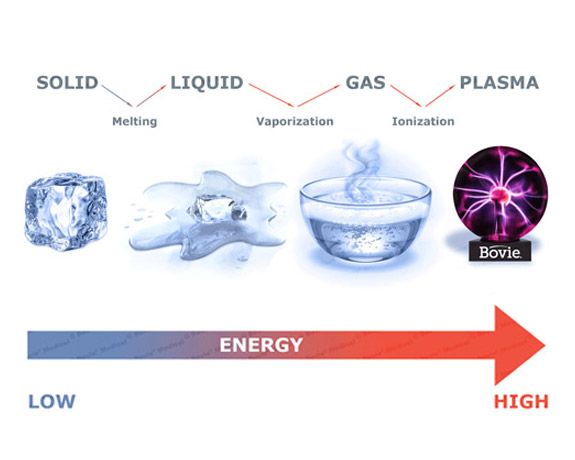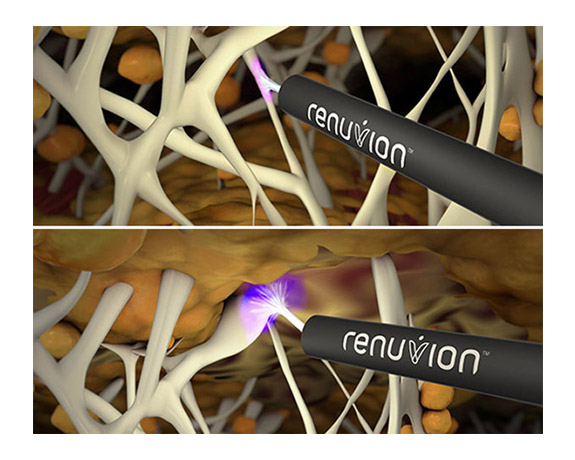 Skin Resurfacing
Well suited to reduce sun damage and imprinted wrinkles in lighter skin tone patients, you will see a smoother, brighter, more youthful appearance with just a single session! Renuvion™ skin resurfacing creates a controlled thermal stimulation of collagen production, reduces aged elastic fibers and results in restructured dermal architecture. The only resurfacing technology that is safe for use over the eyelids, Renuvion™ treatments can take the place of an eyelid lift for select patients with mild to moderate skin excess. Results are visible within a few weeks, and continue to improve up to 6 months. Your office consultation will include a full medical history, an examination for skin laxity, surface damage and facial volume loss. Before your procedure, we will go over the pre and posttreatment guidelines and care instructions. Downtime includes redness & peeling for 2 weeks, and underlying pinkness for approximately 6 weeks.
Pre-Op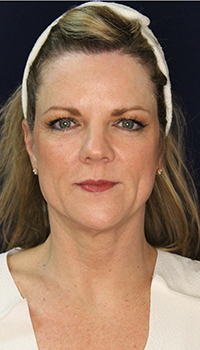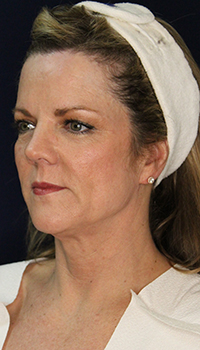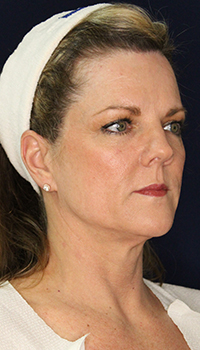 Post-Op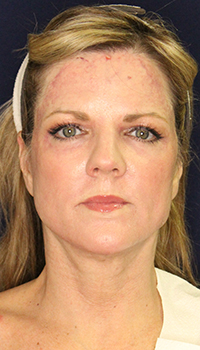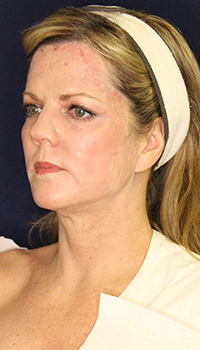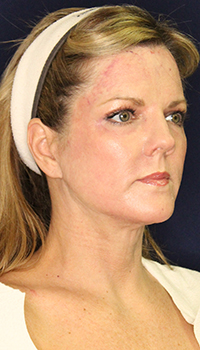 Patient Info
46 year old woman who desired facial rejuvenation without surgical intervention. She underwent a single treatment of Renuvion™ skin resurfacing (no fillers). At 4 weeks, she demonstrates overall smoother, even toned skin, increased definition of the eyes and jawline, and fewer wrinkles. Photos and consent provided, Vaishali B. Doolabh, MD, FACS
Skin Tightening
Define and restore your youthful contours to a previously unobtainable degree with this unique combination of energy and plasma! When placed under the skin, Renuvion™ subdermal contraction of fibrous bands and the production of new collagen binding in the deep dermis layers results in firmer skin overall. In areas of excess fat under the skin, liposuction will sculpt, tone and decompress the skin for additional contraction. Unlike many laser, ultrasound or other Radiofrequency devices that are meant for focused tightening of small areas, Renuvion™ technology is well suited for mild to moderate loose skin along the full neck, as well as large areas of skin laxity on the body, like chest, arms, thighs, back and tummy. For some patients, this is a good alternative to surgical lifts and tucks, and can be completed through a few tiny incisions. There is no special pretreatment necessary for subdermal application. Recovery involves possible bruising and swelling, which is constrained by compression garment wear for a few weeks and promotes contouring.
Patient Info
40 year old athletic woman, mother of two, presented with a primary interest to tighten her abdominal skin. She did not want a tummy tuck scar. She underwent VASER liposuction of the anterior, upper and lower abdomen, waist & hips with subdermal coagulation via the Renuvion™ Cosmetic technology under local tumescent anesthesia and IV pain medicine. A minimal fat aspirate total (150 cc) substantiates that the majority of her contouring was attributable to the Renuvion™ technology. Videos provided by patient and posted with full consent, prior to surgery and on day 2 following surgery, demonstrate immediate decreased movement, indicative of tighter, contracted skin. Actual patient of Vaishali B. Doolabh, MD, FACS